Zoom Piano Lessons for Intermediate and Advanced Pianists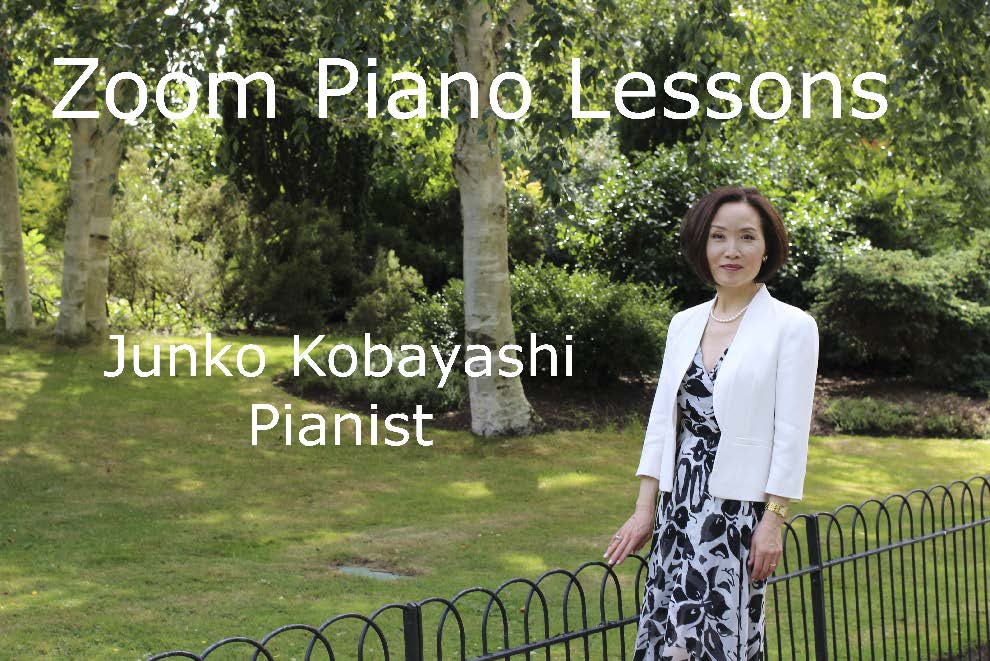 Photo © Ayano Muta
Playing classical music on the piano is to enjoy
a wonderful journey of boundless discovery -
often comforting, and sometimes thrilling beyond words.
Excerpts from my recent CDs can be heard on www.junkokobayashi.com

Beethoven Sonatas
No 1 in F minor op 2 no 1
No 18 in E flat major op 31 no 3 (Hunt)
No 21 in C major op 53 (Waldstein)
No 23 in F minor op 57 (Appassionata)
No 30 in E major op 109
No 31 in A flat major op 110
Chopin
Waltzes, Nocturnes, Mazurkas, Barcarolle and Sonata No 3 in B minor, op 58



I studied piano in Japan with Machiko Asahina and her husband Takashi Asahina, the distinguished conductor, and came to London to study with Maria Curcio, who had been a pupil of Schnabel, and with the great pianist Louis Kentner - who often played with his brother-in-law, Yehudi Menuhin.
I live in London, and have given recitals in four continents and all over Great Britain. Recent concerts were at the Athenaeum Club, in the David Josefowitz Recital Hall at the Royal Academy of Music, at the Chopin Society of London, in the Westminster Cathedral Hall, and as a part of Oxford University Alumni Event
I was founder chair of the Takemitsu Society, London for 15 years, and, in 2018 produced and participated in the "TAKEMITSU 88" concert to celebrate Toru Takemitsu's 88th anniversary, at the Warehouse in London. I am a Steinway artist, and an official fortepiano player at Fenton House in the National Trust.
The Lessons
Before we begin the lessons, you will need the following:
A piano - Upright piano, Grand piano, Digital piano, or Fortepiano.
Any one of these pianos is fine.
A portable device Laptop, iPad, Tablet or Smartphone.
A good internet connection.
Good lighting.

How we proceed:
We will arrange the date and time of a short free trial session by e-mail in advance.
This will be just to check that our Zoom set up works properly.
I will send you a Zoom invitation by e-mail.
A couple of minutes before the scheduled session time, you will click the Zoom
link on my e-mail, then I will admit you to Zoom, and we can begin the session.

The lessons:
Before the lesson, we will go through the same procedure as in paragraphs (2) and (3) above.
My time zone is GMT.
It will be convenient, but not vital, if we both use the same score, i.e.music from the same publisher. We can discuss this before the lesson.
The lesson will be conducted in English or Japanese.
A lesson will usually last one hour.
Fee: For 1 hour lesson UK £50 (Euro €55, US$ 65, ¥7,000).
Payable by online bank transfer. I will let you have my bank details.

For all enquiries, please contact k333junkokobayashi@btinternet.com